CLIENT COMPLETES MASSIVE STATEMENT REDESIGN PROJECT WITH CEDAR
THE CLIENT:
A global payment processing company with more than $10 billion in annual revenue that enables payments around the world for more than 6 million merchant locations, thousands of card issuers, and millions of consumers. The company recently had gone through a 5 year period of rapid expansion as it acquired and merged with other companies around the globe.
THE SITUATION:
Our client found themselves with outdated legacy statements with a redesign project on their books that their internal IT department said could not be done. They were quoted by an outside consulting firm that this redesign project would cost $4 million. At the time, they had:
No electronic delivery capabilities for their statements

A dated format not up to current best practices standards for their documents

Content organization that was not providing their merchants with important information

Very limited messaging options with gaps at the ISO, channel, and merchant levels

No trans-promotional content options

Complex data challenges from the years of rapid expansion with very little system merging
These were the statements our clients had been sending out:
The single greatest challenge our client faced was that they lacked the internal resources with the proper technical skills and tools to manage intricate data input in order to drive effective, simplified multi-channel output. They were also lacking the experience and expertise required to project manage a large, multi-departmental IT project that would be required for customer communications.
Needing to manage, manipulate, and act against a vast amount of complex legacy data, the company turned to CEDAR for a unified, modern multi-channel customer communications management solution.
THE SOLUTION:
To support the company's communication needs, CEDAR aggregated the data from all 7 platforms and created a single, normalized standard data structure. Using historical files and other additional sources, CEDAR was able to mine data from 2.6 million PDFs in order to fill the gaps in customer data. As a result, 2.5 million statements are mined monthly for extraction analytics, and more than 1 trillion personalized rules are evaluated each month.
THE RESULTS:
You saw above what our client had been sending out for years. Now, their printed statements look like this: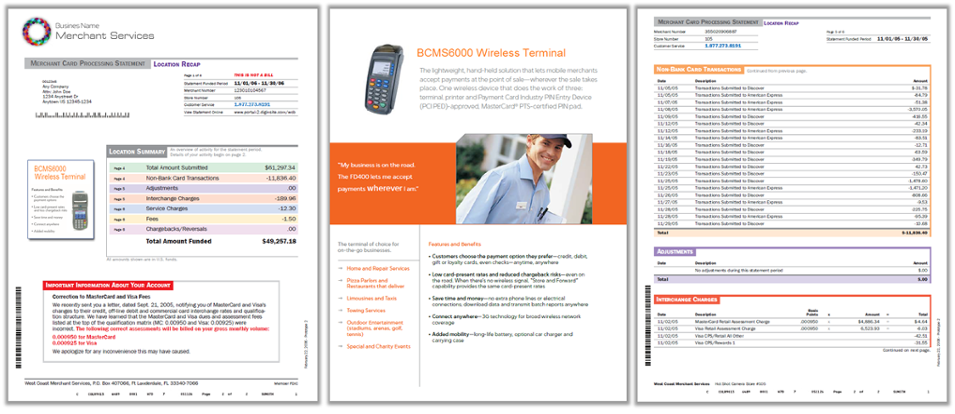 The benefits our client realized after implementing CEDAR's solution were immediate. After working with us, they had:
ABOUT CEDAR:
CEDAR CX Technologies provides a Customer Experience (CX) Platform delivered as a hosted managed service. Our proprietary, configurable platform supports B2B and B2C omnichannel communications and replaces outdated and limited tools. www.cedarcx.com
Questions about how you can realize similar results with CEDAR? Give us a call at (770) 395-5060 or email us.