Read this CEDAR white paper to learn how to avoid collections issues with your customers BEFORE they materialize.
Title: COLLECTIONS BEGIN AT THE POINT OF SALE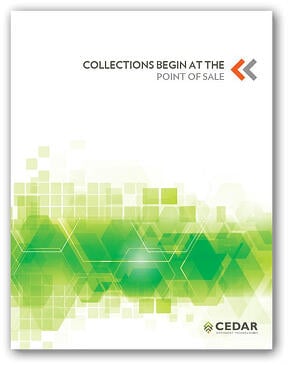 About this White Paper:
Communication is the foundation of your relationships with your customers. Yet when it comes to collections, a key obstacle to customer contact is the lack of a solid communication foundation. That critical communication foundation should be established up front — at the Point of Sale.
People want to pay their bills on time. They want to keep their credit in good standing and not suffer the threat of repossession or loss of service. But the fact is that many people are overleveraged, while others are just so busy that they fail to manage their bill payments in a timely fashion.
This white paper looks at:
keys to establishing that foundation
improving the effectiveness of communication
how to eliminate barriers to communication
<<< DOWNLOAD THIS REPORT FROM CEDAR TODAY!
CEDAR CX Technologies provides a Customer Experience (CX) Platform delivered as a hosted managed service. Our proprietary, configurable platform supports B2B and B2C omnichannel communications and replaces outdated and limited tools. www.cedarcx.com