Download this exclusive white paper to find out if there is an ideal solution for solving today's most basic loan servicing technology challenges.
Title: IMPROVING CUSTOMER COMMUNICATIONS IN MORTGAGE SERVICING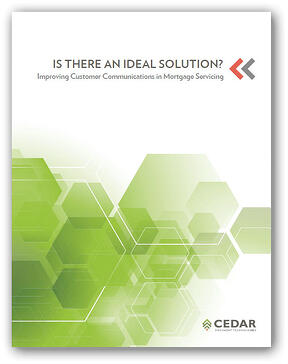 About this White Paper:
Regardless of the strategic choices made by a loan servicing organization, achieving the desired results will be determined by how well the organization is able to consistently execute and manage the operational challenges across the mortgage life cycle. Too often these challenges are addressed piecemeal, especially when each new issue appears to have a white hot urgency and can be fixed - in the near term, at least – with a technology-based approach. But this approach spawns new challenges and rapidly grows into a poorly integrated infrastructure costing uncapped millions annually to maintain. So what are today's most basic loan servicing technology challenges?
This white paper looks at:
The biggest loan servicing challenges
Familiar use cases
What an ideal solution looks like
<<<<<
DOWNLOAD THIS FREE WHITE PAPER FROM CEDAR TODAY!
CEDAR CX Technologies
provides a Customer Experience (CX) Platform delivered as a hosted managed service. Our proprietary, configurable platform supports B2B and B2C omnichannel communications and replaces outdated and limited tools.
www.cedarcx.com